Stata Journal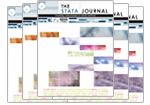 Stata Journal subscription
ISSN 1536-867X (printed journal)
ISSN 1536-8634 (electronic journal)
---
U.S. and Canada
Printed + electronic*
Electronic
1-year subscription
$124
Buy
$89
Buy
2-year subscription
$224
Buy
$162
Buy
3-year subscription
$310
Buy
$229
Buy
1-year student subscription
$89
Buy
$62
Buy
Institutional rates
1-year subscription
$375
Buy


2-year subscription
$679
Buy


3-year subscription
$935
Buy


Elsewhere
Printed + electronic*
Electronic
1-year subscription
$154
Buy
$89
Buy
2-year subscription
$284
Buy
$162
Buy
3-year subscription
$400
Buy
$229
Buy
1-year student subscription
$119
Buy
$62
Buy
Institutional rates
1-year subscription
$405
Buy


2-year subscription
$739
Buy


3-year subscription
$1,025
Buy


* Electronic and printed subscription price includes printed copy mailed using standard shipping, unless otherwise specified.
To order a specific Stata Journal issue or article, see the archives page on the Stata Journal website.
Electronic-only issues are free to download three years after publication. The price will be updated in your cart.
Stata users outside the U.S. and Canada may also order subscriptions from our distributors.